Grand Canyon "Rim to River" Overnight Tour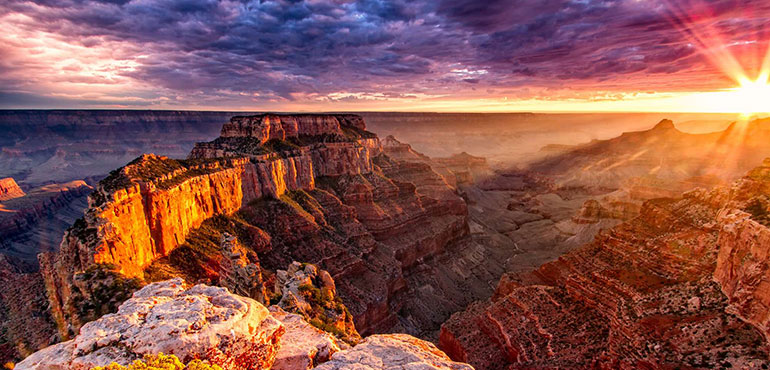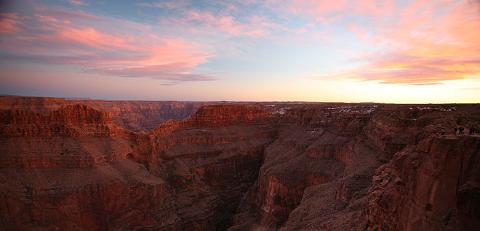 Duration: 10 Hours (approx.)
Location: Las Vegas, Nevada
Product code: P0ENMU
Enjoy views at the deepest and widest part of Grand Canyon, along with a Whitewater Rafting Tour in this "Bucket List" overnight tour of Grand Canyon.
Tour Highlights
-Grand Canyon South Rim sightseeing tour, with options for Helicopter, Railway, Bicycle or Skydiving upgrades.
-Overnight Stay at Hualapai Lodge in Peach Springs, Arizona.
-40 Miles of Colorado River Whitewater in Grand Canyon
-Helicopter flight in Grand Canyon West with time for a rim tour and optional Skywalk
​
Day 1 - Las Vegas to Grand Canyon South Rim - Overnight Hualapai Lodge
On your way to the South Rim, you'll get a complimentary morning snack to enjoy as you travel through the Mojave Desert, the famous Mike O'Callaghan-Pat Tillman Memorial Bridge, and cross iconic Route 66. Today offers a dramatic scenery change as you gain 5000 feet of elevation from Las Vegas. Desert plants and animals change to scenery and wildlife from the Colorado Rockies, with 100 foot tall pines, giant elk and mule deer. Once you arrive in Grand Canyon National Park, you'll have 3 hours to explore the deepest and widest part of the canyon, the South Rim. When you get off the bus, your driver will set up the picnic lunch (provided by the tour) which you can enjoy while taking in the views and learning about various things you can do to make the most of your time in the park. Popular attractions in the Grand Canyon National Park include El Tovar, Hopi House, Kolb Photo Studio, and the Bright Angel Trail – your guide will fill you in on all the details about what you can do and see.
Upgrade your Grand Canyon Experience with these options..
Historic Railway to Grand Canyon Bicycle Tour at Grand Canyon Heli Tour of Grand Canyon Skydiving at Grand Canyon
After departing Grand Canyon South Rim, guests will end their day of adventure with an overnight stay at the Hualapai Lodge, in the Route 66 town of Peach Springs, on the Hualapai Reservation. From the Hualapai Lodge, today begins with a trip to the Colorado River for an unforgettable whitewater rafting trip that covers 40 miles of amazing Grand Canyon views and world class whitewater thrills.
​
Hualapai River Runners
Your one-day rafting adventure starts at our Peach Springs staging location at 8 a.m. From there, you'll hop on a bus to the Colorado River and enjoy beautiful scenery along the way. Then, you'll climb into your raft and begin your journey over 12 miles of whitewater rapids (safe for beginners, but sure to guarantee a thrill). Next comes Travertine Cavern Falls, where you'll enjoy a moderate hike to the cavern and natural waterfall, followed by lunch along the riverbank. After lunch, you'll enjoy a smooth water ride through the Canyon. Throughout the trip, your experienced guide will share stories about the history and culture of the Hualapai people. Your adventure ends with a helicopter flight from the river to the rim of Grand Canyon West, where for a small additional fee, you can tour the Skywalk and our other viewpoints. Ground transportation will return you to Peach Springs in time for dinner. Children must be ages 8 or older to participate in our one-day rafting tour.
Guests will have the option to experience the Skywalk observation platform before returning via luxury motor coach to Las Vegas. Arrival in Las Vegas is approximately 8:00pm.
Tour includes
Hotel pick-up and drop-off in a deluxe motor coach
Lunch on both days
National Park Entry Fees
Day 1 Complimentary morning snack and free bottled water
Overnight stay at the Hualapai Lodge in Peach Springs, single or double occupancy.
Hualapai 1 Day Whitewater Rafting Tour with Helicopter lift to the rim at Grand Canyon West
Return Transfer from Grand Canyon West to Las Vegas
​
Dinner on Day 1 and Breakfast on Day 2 are not included in the tour price.
Optional tour upgrades at Grand Canyon South Rim and Skywalk at Grand Canyon West are an additional cost.
Tour guide gratuities are not included.